This document explains the steps necessary to install a new ROB-EX Scheduler client
Preparation
First make sure that the target system meets the system requirements. For a client the most important requirement is that a Java Runtime Environment version 1.8 is installed.
Also make sure that you have read the document Planning the client installation, explaining where to install the client and what license type to select.
For Windows Windows 7/10 users see the important UAC note below.
How to get
ROB

-EX Scheduler installation media

The ROB-EX Scheduler client installation is contained in a single windows installer setup exe file. This file is available for download from the support area on www.rob-ex.com. If you do not already have valid login and password please contact your dealer or support at ROB-EX A/S (support@rob-ex.com).
Installing the client
Download the Full Setup program to a directory on your local hard disk or file server. The setup program is used for installation of both

ROB

-EX Scheduler Professional and

ROB

-EX Scheduler Viewer.
Run the setup program (e.g. SetupRobexClient_v6.4.0.61.exe).
In the first window click Next.
Select "New" and desired runtime language (e.g. English), and Click "Next".
Click "I Agree" to accept the License Agreement.
Select the "Planner" product to install a standard

ROB

-EX Scheduler, click "Next"
Choose the directory to install the

ROB

-EX Scheduler installation using the "Browse" button.
For users going to have more than a single

ROB

-EX Scheduler user (i.e. more than one planner) we strongly recommend installation of the program on a file server (e.g. f:\robex\planner or f:\robex\viewer)
Click "Install" to start the installation.
To install a ROB-EX Scheduler with Operators (Shop Floor) steps 1-5 are repeated remembering to select "Planner with Operator" as product in step 3
ROB-EX Scheduler with Operator enables you to start up a web-server allowing users in e.g. production to view production plans in a web-browser.
To install ROB-EX Scheduler Viewer steps 1-5 are repeated remembering to select "Viewer" as product in step 3 and remembering to select a different installation directory in step 4.
Important note concerning
UAC

on Windows 7 and 10

The Windows Vista operating system (and hence Windows 7 and 10) introduced a new security model called User Account Control (UAC). Basically this means that every user normally runs with reduced privileges. Even though a user is a local administrator, the user will not run with administrative privileges. For certain operations Windows will prompt the user whenever administrative privileges are required.

Writing to the folder c:\Program Files (x86) requires administrative privileges. Since the default installation folder for ROB-EX Scheduler is c:\Program Files (x86) this impacts the following situation
A

ROB

-EX Scheduler client running the Shop Floor web-server, since Shop Floor user configurations are stored within the

ROB

-EX Scheduler installation directory
To cope with Windows UAC in the above situations, you will need to assign full read/write privileges to the user on the directory c:\Program Files (x86)\ROB-EX\custom. Right click on folder c:\Program Files (x86)\ROB-EX\custom and select "Properties" and the tab "Security" and assign full control to the user running the ROB-EX Scheduler client.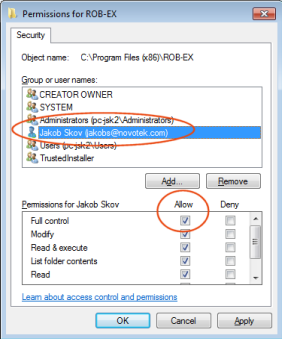 Feedback
Thanks for your feedback.